ANNOUNCEMENT: (Dated: 31 January-2022)
DIVIDEND & PRICE SENSITIVE INFORMATION
ANNOUNCEMENT: (DATED 31 DECEMBER-2021)
Due to the activities related to 2021 Annual Accounts Closing, Auditing & Trustee Meeting with ICB, the Buy-Sell of the units of Zenith Annual Income Fund-ZAIF will remain suspended from 01 Jan-2022 until Final Audit completion and Dividend Declaration for the year ended 2021.
Therefore, the NAV of ZAIF will not be published in the national dailies as well as in our website from 01 Jan-2022. We will notify the resumption of BUY-SELL of the units of ZAIF later Insha-Allah.
"May The Almighty bring peace and happiness in the year 2022". Happy New Year!
Best Regards,
Team ZAIF
ANNOUNCEMENT:
DIVIDEND & PRICE SENSITIVE INFORMATION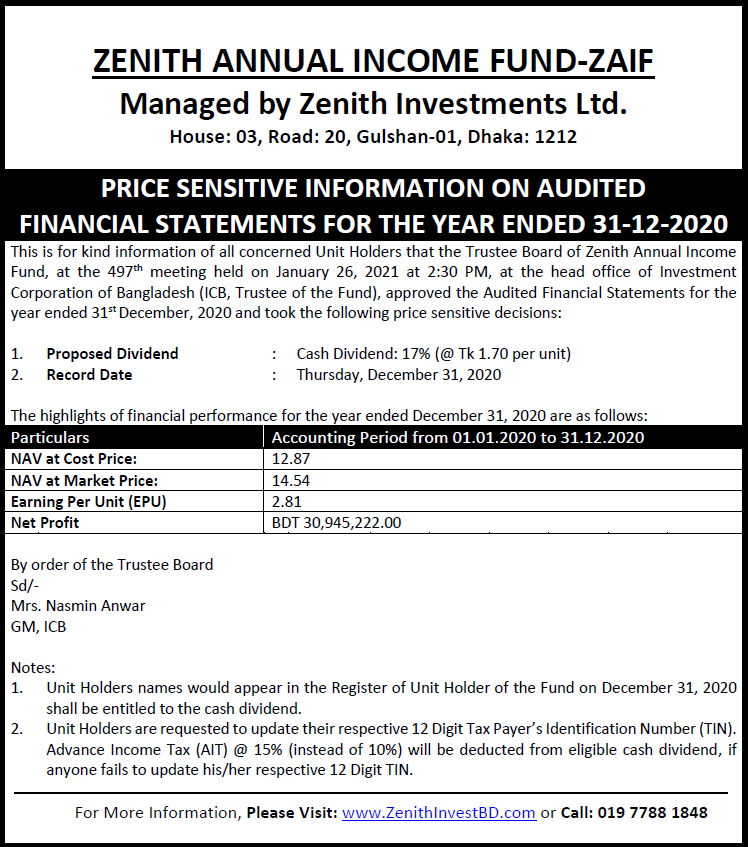 ANNOUNCEMENT
DIVIDEND & PRICE SENSITIVE INFORMATION
ANNOUNCEMENT
DIVIDEND & PRICE SENSITIVE INFORMATION